We Understand Pain
Through generations, the cause of pain has been a misunderstood, condition that does not make distinction whether it is of age, race, culture or social condition. It can occur for many reasons, and there is not a single "treatment" that can cure it.
We at the center for pain management realize the importance of pain and its detrimental effects on the health and lifestyle of people affected by it. It is our mission to provide pain relief to everyone in a compassionate, comprehensive and professional manner. We believe that a multi-disciplinary and multi-modality treatment approach is the best way to deal with the complex entity of pain. We also believe that restoring function and returning patients to their normal lives is just as important as pain relief. The treatment modalities we use include Intervention procedures, Physical therapy, Psychological therapy. The treatment of the pain has the role to identify the precise source of the problem and to select the optimum treatment .
Pain management clinic in kolkata offers comprehensive treatment for all types of pain management & pain therapies. We will help people to manage their pain and resume more normal and productive life.
Dr. Krishna Poddar is one of the leading pain consultant doctors in Kolkata with a depth of experience handling typical cases like arthritis treatment,lower back pain, arm & leg radiculopathy, headache, migraine, neck pain, cancer pain, pelvic pain, nerve pain, post stroke pain, abdominal pain, neck surgery syndrome, and many more.
Back pain is common
Back is design for bending and lifting
Back pain can be happen even without damage and injury
Back pain doesn't get better with bed rest
Back pain can be relieved and prevented with excercises
Back pain doesn't need strong pain medications
Back pain not needed X-Ray always to diagnose
Back pain doesn't need any spine surgery always
Back pain can be prevented with Healthy diet
Back pain for prolong duration require pain specialist to see
Headache, Migraine
Trigeminal Neuralgia, Occipital Neuralgia
Neck Pain
Back Pain, Spine Pain and Radiculopathy
Slip Disc, Spondylysis, Spinal Stenosis
Chronic Pain following back or neck surgery
RSD—Reflex Sympathetic Dystrophy
Muscle Pain, Body Pain
Fibromyalgia
Herpes Zoster, Post Herpetic Neuralgia
Proper Assesment And Diagnosis Of Pain
Scientific Medical Treatment
Interventions Pain Treatment (Injections)
Radiofrequency Treatment
Ozone Treatment
PRP Treatment for Pain
Laser Therapy
Physical Therapy
Advance Pain Management
Declaration :
Permission is taken from the patient and it's purely education purpose.
Declaration :
Permission is taken from the patient and it's purely education purpose.
Pt 72 years old female suffering with severe Back pain due to BL sacroilitis.Cooled Radiofrequency done.Pt is pain free and very happy.
Declaration :
Permission is taken from the patient and it's purely education purpose.
I am a patient of Trigeminal neuralgia since 2014, and consulted with many neurologist in Kolkata also with ENT doctors as well Maxillofacial surgeon but did not get any relief from my severe pains as and when its start. In between I am also consulted with top homeopathy doctor in Kolkata and under a treatment of two years but no improvement happened .
Ultimately on February 2022 I visited Dr Krishna Poddar (Kolkata Pain Clinic) and she advised for Radio Frequency treatment , as per her advised I did the same on 15th February , she personally conducted the procedure with her personal care and till date I am fine with good health and no pain. Thanks to Dr. Krishna Poddar and the total team of Kolkata Pain Clinic.

SUKANTO CHAKRABORTY


May 23, 2022

I am a patient of Dr.Krishna Poddar since 11 years. Under her treatment I am very comfortable. Her diagnosis and treatment is perfect and effective. She is also very friendly with patient.

nandita chakraborty


January 24, 2022

Good

DEEPAK SINGHAL


July 24, 2021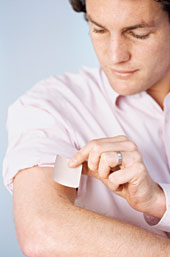 Patch it up Transdermal patches can help in pain management. But there is not enough awareness about them in India, says Hemchhaya De.
You have heard of nicotine patches — those Band Aid-like strips that help people quit smoking. But those are just one variety of what is broadly known as transdermal patches. The latter play a crucial role in pain management in several parts of the world. But in India, doctors say, awareness of the use of transdermal patches in relieving pain is abysmally low. What's more, these are not widely available in the country. read more