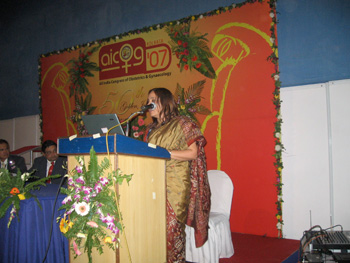 Dr. Krishna Poddar ,M.B.B.S. MD
FIAPM (IAPM-ISSP)
FIPM (Fellowship Pain Management)

Personal Detail
Profession: Specialty – Interventional Pain Specialist and Anesthesiologist
Professional License : WB MCI 50518 (M.B.B.S. and M.D.)
Address : AL 49, Sec-II, Salt Lake City, Kolkata – 700091
Phone : +91 9432226838 Mobile: 98300 48445.
Website : wwwkolkatapainrelief.com
Clinical Experience: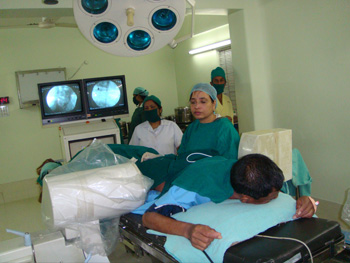 Associate in a well-established and renowned Interventional pain practice since 2006.I have extensive experience in simple and complex Pain procedures . Experienced in Acute pain , all type of Regional anaesthesia blocks with Ultrasound guided,Land mark Techniques,and Nerve stimulator Techniques. Performed more than 5000 Labour analgesia since 1992.
First to perform in Eastern india-Intrathecal Morphine Pump, Percutaneous Hydro discectomy and Nucleopasty and Peripheral Nerve Stimulators. Cool RF, Endoscopic Discectomy
Experience in all type of Pain Interventions like Epidural Blocks, Transforaminal Blocks, Facet Blocks, Radiofrequency ablation , all type of sympathetic blocks, Disc Procedures, Gaserian Ganglion Block, Neurolytic Blocks for Cancer pain, Vertebroplasty and Kyphoplasty and all musculoskeletal pain blocks USG guided and fluoroscopic guided.
ACADEMIC APPOINTMENTS
Examiner of IAPM–ISSP first Fellowship exam at Delhi in January 2018

Assistant Professor Department of Anaesthesia and Pain

Vivekananda Institute of Medical Science Kolkata since 2013-Present

Faculty at Aesculup academy at Dardia pain Clinic Kolkata Sept 2007-2009) 

Classes for undergraduates during three years residency from 1989-1992

Faculty for DNB students at AMRI hospital Dhakuria from 2008 to 2012

Visiting Faculty in Pain and Anaesthesia at Tripura Medical College since November 2017
Faculty and Guest speaker
Faculty at First Live workshop on Interventional Pian Management on 22-01-2019 at Bankura Medical college

Organized first Hand on workshop on USG-MSK pain in Kolkata on 22-12-2018

Invited speaker at 12 th Annual conference of IDA Kolkata city Branch 1-12-2018

Invited speaker and faculty at Pain workshop at Raipur June 2018

4th ISPCCON Lucknow November 2018

ISACON Kolkata November 2017

3rd International Pain Conference Aswan Egypt March 2018

ASOCON 2019 Ahmedabad Jan 2019

ASOCON 2018 Delhi Feb 2018

President of ASOCON 2017 Kolkata, 2nd National conference of Anaesthesia society for Obesity Feb 2017

ASOCON 2016 Indore

Organizing secretary of first EPM workshop in Eastern India.

Organizer and Faculty 6 EPM Lite and 2 UPFRONT programs in Kolkata

ICRA PAIN 2017 Pune

ICRA Pain 2016 Kolkata

ICRA PAIN 2015 Kolkata

First ASOCON 2016 Indore
International Congress on Endometriosis (ICE 2015) Kolkata

Central Asia Regional Congress MWIA 2015 Kolkata

IMS East Zone Conference 2015 Kolkata

ISSPCON 2019 Benglure

ISSPCON 2018 Delhi

ISSPCON 2017 Jaipur

ISSPCON 2016 Indore

ISSPCON 2015 Chennai

ISSPCON 2014 Mumbai

ISSPCON 2013 Nagpur

ISSPCON 2012 Bangalore

ISSPCON 2011 Chandigarh

ISSPCON 2010 Jabalpur

ISSPCON 2009 Silver jubilee Hyderabad

ISSPCON 2008 Vellore

ISSPCON 2007 Ahmedabad
8th South Asian Regional Pain Society Congress Dhaka Bangladesh February 2018

7th South Asian Regional Pain Society Congress Ahmedabad India November 2014

First World Pain Symposium by WIP and 3rd ICIPM Kolkata November 2013
Prof Anjali Chatterjee memorial Oration at AMWI (WB) Kolkata July 2012
Global Update Of Pain at Bombay Hospital-November 2015

Global Update Of Pain at Bombay Hospital-November 2009

Global Update Of Pain at Bombay Hospital November 2006

ISACON 2005 Kolkata- Pain workshop and Paper Presentation

ISSP WBCON Kolkata 2006,2008,2009, 2011,2012,2014 and 2018

ISACON West Bengal State Conference Kolkata 2006,2008,2009,2011,2012,2014,2015 and 2016

ISAJAC Kolkata 2010 and 2013 and 2015

ISNACC 2010 Kolkata Live demonstration of Pain Blocks in Workshop

RACPCON 2008 Kolkata Guest lecture

All India Women Doctors Conference 2008 Kolkata

Pain workshops in ISA Chhattisgarh Raipur May 2007 Live demonstration of Blocks

AICOG Golden Jubilee conference Jan 2007 Kolkata Guest lecture on Obstetric Anesthesia

AICOG 2007 Kolkata Live Demonstration of Labor Analgesia at Workshop on Labor Management

BOGSCON Kolkata 2005,2006 and 2008
Organizing Secretary ISSPWBCON 2012 Kolkata

Participated in Masters Class 2017 Hong Kong  on Neuropathic Pain

Faculty at PACH Hyderabad 1st July2017

Faculty at IASP-ISSP Multidisciplinary Evidence-Based Pain Management Program Mumbai 14-15 July 2017
Publications
Contributed chapter Krishna Poddar ,Calciphylaxis and its Pain Management in Book Titled Symptom oriented Pain Management by Dr Baheti et al-ch 44,2017

Contributed two chapters in book Textbook of Pain Management third Edition by Dr Muralidhar Joshi- Occipital Nerve Block for Occipital Pain Phantom Pain Syndrome
Krishna Poddar1,Sumanta Das Gupta2,Rachit Gulati3-Epidural Alcohol Neurolysis–A Good Option for Cancer Pain Management in Developing Countries – Journal of Anesthesia & Critical Care: Open Access Volume 6 Issue 5 – 2016
Krishna Poddar1,Rachit Gulati2-Lumbar Facet Interventions J Recent Adv Pain 2017
Krishna Poddar1, Rachit Gulati2, Managing Late onset primary erythromelalgia with oral pregabalin ,nternet Journal of Rheumatology and Clinical Immunology 2017;(5)1:CS1
Chief Editor of Book On Obesity Anaesthesia in 2017

Abstract in Pain Practice September 2007

Paper – Child (Pediatric Journal.)

Write up in many CME Book on pain and anesthesia
Poster Presentations  World Congress
Poster Presentation at World congress IASP Boston USA September 2018

Poster Presentation at EFIC Copenhagen September 2017

Poster Presentation at World Congress IASP Yokohoma Japan September 2016
Poster Presentation at World Congress IASP Milan Italy August 2012

Poster Presentation at World Congress IASP Montreal Canada September 2010

Poster Presentation at World Congress WIP at NY USA in March 2009

Poster Presentation at World Congress WIP at Budapest Hungry in Aug 2007
MEMBERSHIP OF PROFESSIONAL SOCIETIES / ACADEMIC BODIES
President ASO India 2018-1019

G C member in IAPM in ISSP 2017-2021

Secretary ISA Kolkata Metro city Branch (2018-2021)

Joint Secretary IMA North city Kolkata (2018-2020)

Past EC Member Indian Society for Study of Pain for 6 years (2007-2013)

Past Vice President Indian Society for Study of Pain West Bengal since (2012-2016)

Past Secretary Indian Society for Study of Pain West Bengal since (2009-2012)

Past Treasurer Indian Society for Study of Pain West Bengal since (2006-2009)

Member Editorial Board ISSP Pain Journal since 2008

Chair Person AMS Indian Medical Association North West Branch since 2016

Served at different posts since 2000 at IMA North West Kolkata-Present

Past Eastern Zonal coordinator AORA India 2011-2012

Member WIP World Institute Pain

Member International Association for the Study of Pain (IASP), Seattle, WA 98105, USA. Since 2009

Life member Indian society of Anaesthesiology (ISA )since 1990

Life Member Indian Medical Association(IMA) since 1993

Founder member of Indian Neuromodulation Society

Founder Member Anaesthesia society Of Obesity (ASO) India

Life Member of Indian society for study of Pain (ISSP) since 2005

Life Member of Indian Menopausal Society (IMS)

Life Member of Association Medical Women India Mission (AMWI) West Bengal

Life Member of Indian Association of Palliative care (IAPC)

Life member AORA
Community Outreach     
I am working as Pain consultant at Seva Pratishthan Hospital Kolkata since 2013

I have worked for 14 years (1994-2008) in Anandalok Hospital, a charitable hospital in Kolkata,

Worked as Honorary Anaesthesiologist in Marwari Relief Hospital (1992-1998)

Worked as Honorary anaesthesiologist at Vishudhanand Hospital (1992-1994)

Involve in different social works in field of education and Health
Educational qualification
Medical Graduation-MBBS (Aug1983-Aug 1988)

Pandit JNM Medical College, Ravi Shankar University Raipur Chhattisgarh Aug

Post Graduation-M.D. Anaesthesiology (Aug1989-Aug 1992)

Pandit JNM Medical College. Ravi Shankar University Raipur Chhattisgarh Aug

FIPM-(April 2006) Aesculup Academy Germany at Delhi pain management centre India
FIAPM (IAPM-ISSP) July 2018
Post Doct0ral Training
Pain management Oct. 2005- at Tata memorial cancer hospital Mumbai

Pain management April 2006-fellowship in interventional pain management by Aesculup academy Germany at Delhi Pain Management Centre

Pain Management April 2006-at Gangaram Hospital Delhi

Pain Management May 2005-Sep 2007- at Chornock Hospital Kolkata by Dr.Gautam Das

Pain Management March 2009- at The Pain Institute, Louisville, KY,USA and Cornell Medical college Hospital NY USA

Pain Management June 2010 at Nepean Hospital, Sydney, AUSTRALIA

Visited to BIDM Hospital Harvard Medical School Boston USA in September 2018

Training in Regenerative medicine and stem cell therapy at Chicago USA in September 2018
References: Available Upon Request